Business Financing: Equity Financing
For Small-Medium Enterprises (SMEs) or start-up companies, raising capital is often a big challenge. Although there are many types of business loans, companies may not always meet requirements or feel that debt financing is too risky or difficult to manage as a new business. In these situations, Equity Financing can be a viable option.
Equity Financing is a way to obtain capital by selling a portion of company ownership in exchange for investment. Investors will earn from the company's profits and if the owner wants to end his relationship with investors, he would have to buy them out.
Several advantages of this option include:

THERE IS MORE CASH FLOW
Since the business does not go in debt, there are no burdensome interests and repayment to factor into expenses. More funds can be allotted for growing th e business.

INVESTORS HOLD MORE RISK
If the business does not succeed, the owner's assets are not on the line.

THE FUNDS ARE LONG-TERM INVESTMENT
There are no tight restrictions like in bank loan repayments.
TYPES OF EQUITY FINANCING IN SINGAPORE
These are private investors either investing as individuals or part of a network. Some may have a very active role in managing and making decisions for the business while others are more passive investors.
Private investors are private companies or individuals that take their own money and use it to help another business or individual. They invest in small or large start-up businesses, as well as businesses that have been operating but are looking to expand or have run into hard financial times.
These are professional investors who invest primarily on large- scale, high-impact business sectors such as Information Technology, Health and Biomedical Sciences, Advance d Manufacturing and Engineering, and Urban Solutions and Sustainability.
Venture capitalists not only fund the company but also offer ad vice and get involved in the operations and direction of the business. They also demand a bigger stake, aro und 25% up, and are involved between 2 to 5 years in their investment.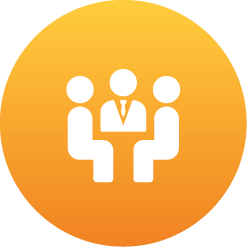 Eligibility
• A private limited company incorporated in Singapore with a paid-up capital of at least S$50,000
• Must not be a subsidiary or a joint venture
• Must not be incorporated for more than five years.
• A company with its core activities carried out in Singapore
• Must demonstrate that its products/services/applications are highly innovative and have substantial intellectual content
• Must have high growth prospects and international scalability

Documents to Submit
• Comprehensive business plan
• Realistic financial projections
• Experienced management team
• Executive Summary (company profile, proposed product/solution and its advantage, business roadmap, competitive landscape)
Start Your Application Today!
Start Your Application Today!
We help our clients obtain the right financial assistance by objectively assessing their business profile and documents before finding the most suitable financial institutions that could give them the highest loan approval chances.
We also try to get the best deal for our clients by looking for the lowest interest rates in the market, but this could still vary depending on the company's financial standing and profile.
If your company is not able to qualify for a loan at the moment, we also advise on what areas you can improve in order to qualify in the future.
Get started in 4 easy steps.
1. Fill up the form and submit
2. Engaged by our assigned consultant
3. Consultant presents on the proposed business solution
4. Get your funds upon approval
• Upon receiving your inquiry, our assigned Business Consultant will get an overview of your business finance.
• The assigned Business Consultants will brief you on the application process, the best suited solution and credit facilities for your business based on your needs during the scheduled appointment.
• We will assist you with the full process of your application until approval and disbursement.
• During the process, additional documentation required to aid in the application approval might be requested from you.
• Please allow 2 to 4 weeks* for the assessment, submission, negotiation and approval of your application.
• If approved, disbursement takes about 3 to 5 working days upon signing of the Letter of Offer.
Every client is important to us and we do our best to meet the estimated timeline given.
* Subject to the credit facility proposed and applied for, processing time may take longer or shorter.